About ACCTRIX®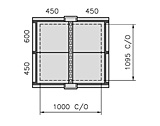 For ease of specification and pricing, the ACCTRIX® program will enable you to design your own multipart or trench run system. You will be given a choice of 5 systems based on your enclosure's size and load class requirements. These may vary in configuration and individual cover lifting weights, criteria possibly driven by your OH&S considerations.
Finally, once your preference is made, a drawing is generated for specification purposes and for submission to ACO for quotation.
In some rare instances, certain cover combinations may not be available, contact ACO for confirmation.
Returning Users
If you're already registered to use the ACCTRIX® system, you can login here: