ACO's Access Covers and Cable Enclosures
ACO offers a range of access covers, trafficable cable pits and surface ducting systems to ensure safe routing and access to underground utilities.
These products are used in a wide variety of industries and applications including cable, water and sewer; mechanical, structural and architectural projects.
High quality access covers which, whilst providing speedy and easy access to underground services, enable decorative floor finishes to be maintained with minimal interference. ACO Access is a range of cover and frame systems made from ductile iron, galvanised steel and composite materials in a number of sizes and configurations from single to large multipart units.
To learn more about ACO's range of access covers, visit ACO Access.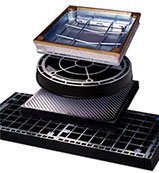 Cable pit and surface ducting systems