Hotels and apartments – ACO's Competency and a History of Success
It's not obvious from a quick glance at the exterior, but hotels and apartments consist of some of the most complex water management systems imaginable in order to function correctly. Kitchens, bathrooms, spa areas, sports bars, balconies all require the latest in modern technology and state-of-the-art product design.
It's all about keeping hotels and apartments running smoothly; allowing operators to continue providing a first-class service without having to concern themselves with issues relating to plumbing infrastructure. Some applications demand stringent, aesthetic and functional hygiene requirements and designers turn to ACO for its unrivalled leadership in providing drainage solutions for food preparation, food service,  sanitary and bathroom areas.
Let's take a look at some of ACO's product solutions to see how the hotel or apartment can benefit from clever drainage technology implementation.
ACO's Product Solutions for Hotels
Grease Separators
Functioning through their use of gravity, grease separators are a necessity in commercial areas where greasy wastewater is created. When oils, grease and other components build up on the walls of pipes, they can lead to problems including blockages, corrosion and pungent smells. This can result in costly maintenance and interruptions for hotel operators.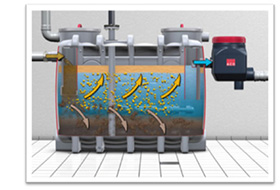 ACO provides the much-needed solution to this problem by offering grease separators for underground or free-standing applications.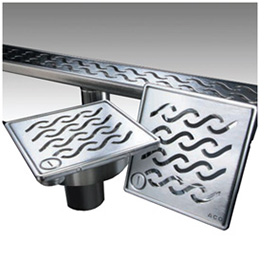 Open-plan bathroom design is becoming a popular choice for architects and builders the world over. This inspiration is drawn from spatial design concepts and encompasses traditional baths as well their more modern, luxurious counterparts.
ACO offers a series of premium products in the area of bathroom drainage. These products are not only compact, but also visually appealing with their attractive designer stainless steel grates.
ACO's bathroom drainage product line includes:
Case Studies: ACO's Hotel Solutions
With direct access to Noosa's main Beach, this resort is filled with stunning beachfront apartments overlooking Laguna Bay in Noosa Heads. After recently undergoing a total makeover, large and contrasting tiles were used in specific areas of the resort. Composed with a sleek tile pattern, bathrooms were modernised and kept consistent throughout.ACO's QuARTz By ACO bathroom linear drains and floor wastes with Linéaire grates were requested and utilised throughout, without disturbing the visual balance of the décor. Linéaire grates offer high water intake and are designed to be slip resistant
There are three notable apartment towers in the Melbourne suburb of Highett, designed with a traditional facade and state-of-the-art materials.Part of the design brief was to incorporate large balconies that overlook Sir William Fry Reserve to enable visitors to enjoy the scenery during periods of poor weather. This meant that surface water along the building line had to be managed carefully without inconveniencing apartment visitors.
The designers requested ACO's BalconyDrain. This product is comprised of a grate system and stainless steel channel ideal for shallow balcony screeds. This drainage system was intended for connection to the building's assortment of hidden and exposed downpipes.
A popular and well-known dining and entertainment centre found in the heart of Sydney's CBD, The Ivy has a variety of award winning restaurants, bars and event areas.These areas required a high standard of design and quality stainless steel and drainage materials. Designers selected ACO's stainless steel Heelsafe Anti-Slip grates. These grates are slip resistant to R10, AS 4586, which is the national requirement for slip resistance when it comes to new pedestrian surface materials.
If you're interested in finding out more about any of our Building Drainage products for hotels or apartments, or simply want to discuss your requirements, call us today on 1300 765 226 to speak with an expert, or send us an email.