Compact Drainage Products for Effective Drainage Solutions
ACO are the experts in water management solutions offering an array of compact drainage products for every application.
ACO's compact drainage products come in a variety of forms for different load ratings and applications. If you are looking for compact drainage products for areas such as bathrooms, balconies, threshold applications, suspended slabs, floors and pavements, that overlie structural slabs, gas, electrical, data, plumbing and other services, ACO has a wide variety of compact drainage solutions that pose no threat to the slab integrity and no interference to services because the drainage is kept close to the surface.
Compact drainage may also be required in some unusual applications. Here are two instances:
In the planning phase of some projects, the drainage may be simply forgotten and need to be added retrospectively. In these situations, where a last minute decision is made by the builder, little space allowance has been made for drainage.
In retro-fit applications, where old or damaged drainage needs to be replaced, often only a compact drain is the only solution.
ACO offer compact drainage solutions for various applications:
Bathroom drainage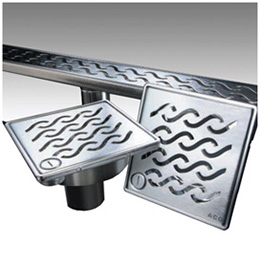 QuARTz by ACO is synonymous for clever and inspirational compact drainage for bathrooms and other wet areas. ACO's designs brings elegance to the bathroom, ensuring that water is drained fast and the surface remains safe and dry. The QuARTz By ACO range comprises floor wastes like ShowerPoint and CentrePoint and linear drains, like ShowerChannel.
QuARTz by ACO products have recently been installed in the en-suite facilities of Geelong Hospital, Victoria where ACO offered an efficient shower drainage solution that prevents flooding due to the build-up of hair and soap scum. The drainage system was securely installed into the vinyl flooring to facilitate easy cleaning.
Builders installed ShowerChannel and the Flag grate in the bathrooms. The system was fitted with an integral custom-made vinyl clamp system. The large openings of Flag grate facilitates easy passage of shower water. The V profile of ShowerChannel makes sure that no liquid accumulates at the bottom of the channel. As a result, stagnant water and odours are eliminated. Cleaning is easy too. The choice of a linear drain reduces the need for a shower hob, making it safer for kids, the elderly and invalids.
The stainless steel grates ensure high quality and finish. You can choose the one that compliments your floor style from any of the eight design options. The textured exterior of the grates minimises the appearance of soap residue and fingerprints.
Balcony drainage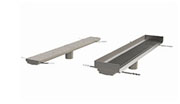 BalconyDrain from ACO is aesthetically designed and built to last. The system is specifically developed to protect the building from stormwater at or around the building line. Specially built for balconies, these drains intercept and collect surface water from the ground level up to the roofline. These drains, made of stainless steel, are highly suitable for restricted depth areas in balconies, terraces and patio areas
Kingston Park Apartments situated in the suburb of Highett, Melbourne, has used ACO's BalconyDrain to manage the surface water along the building during rain. The stainless steel channels and grates are integrated with both hidden and exposed downpipes of the building for effective drainage. During storms, water is captured efficiently and removed, leaving the area dry.
Green roof drainage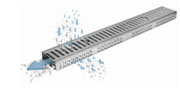 The green roof is a popular concept in Australia. It is found on buildings covered wholly or partly by vegetation like grass, plants or small trees positioned over a waterproofing membrane. It comprises various layers namely drainage systems, irrigation systems and root barriers. An effective green roof drainage system is necessary to prevent any damage to the building due to water seepage.
ACO's Profiline system helps to collect the water as it runs down the façade as well as in the soil adjacent to the drain through perforations in the channel walls. These drainage systems can be installed directly above roofs or balconies.
General-purpose shallow drainage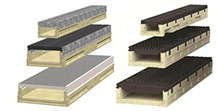 SlabDrain is a shallow invert trench drain made of modular Polycrete® Channels (channels made from polymer concrete). This is an ideal option when site depth restrictions are more important than hydraulic capacity in external areas. These are pedestrian friendly drains with certified slip ratings and are used extensively. While reconnecting the Law School campus to Victoria Park, it was necessary to go for effective drainage at multiple levels of pavements. ACO's SlabDrain, 130mm deep, was installed along the pavements with minimal excavation required. As the drainage was close to the surface, the need for earth works was minimised. Iron Heelsafe® Anti-Slip grates (rated to AS 4586) were used, as they were safe for women with high heels.
Overall, ACO's SlabDrain offers great practicality and functionality. The grates are easy to fix and remove as they a fastened with boltless mechanism for locking them in their place.
Discreet drainage
ACO also offers a range of small trench drain systems for balconies or pavements, or for places that need a discreet barrier to separate dry and wet areas. The Miniklassik range of drains gives you the option of choosing from ACO's Heelsafe® Anti-slip grates.

Cast floor and roof drains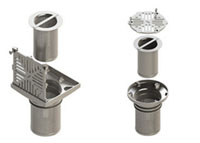 ACO Wexel is a range of push fit vertical floor drains, complete with 'O-rings' which offers a fast watertight connection, to PVC or HDPE pipes for wastewater or stormwater applications. An array of compact bucket traps with fixed and removable strainers is also available. Round and square stainless steel lockable Heelguard grates with integrated fixed and removable strainers can be positioned directly into the drainage pipe which makes this a very compact system.
Stainless steel gullies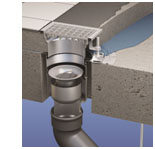 ACO Gully® is a range of industrial and commercial gullies and bucket traps for food processing and commercial kitchens applications where hygiene, durability and performance requirements are paramount. For all products in this range, ACO offers an optional internal foul air trap design which is housed within the gully body. This facilitates compact drainage by removing the need for an underlying p-trap.
Industrial linear drainage
ACO offers customised solutions for stainless steel channels to suit industrial projects. These are available in variable widths and shallow depths to allow easy customisation in hard to fit installations.
Choosing the right compact drainage solution is very important. ACO offers compact drainage products to suit every requirement. If you wish to find out more about compact drainage products from ACO, call us on 1300 765 226.