ACO Australia's ongoing support of the Australian Landscape Architectural Community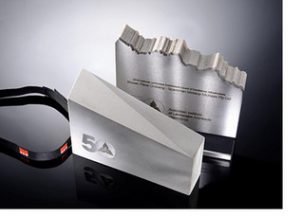 This is ACO Australia's first year as a supporting corporate partner of AILA (Australian Institute of Landscape architects).  The Australian manufacturer was proud to be a part of the International Festival of Landscape Architecture and the coinciding National Landscape Architectural Awards presentation held in Canberra. Over 450 delegates attended the festival which was the focal event marking AILA's fifty year celebrations.
At this event, ACO clearly signalled its intention to be a long time participator and supporter of the Australian landscape architectural community for leading edge design, innovation and creativity. At the National Landscape Architecture awards presentation, ACO showcased its manufacturing competency by creating 11 AILA trophies known as 'Awards of Excellence' for presentation to the award winners of 11 categories.
Three designers from Hassell Studios, Georgia Darling (Sydney), Pip Byrne, Brenton Beggs (both Melbourne) visited ACO's manufacturing plant in Emu Plains earlier in the year to learn first-hand about ACO's capabilities. This effectively initiated the design phase for the trophy. For 2 months, ACO and Hassell worked together to bring to fruition a 3D artwork comprising polymer concrete and stainless steel materials. The composite design displayed both polished and unpolished faces in accordance with the designers' artistic objectives.
ACO was involved in all stages from the design of the (3D printed) moulds to the laser etching (engraving). The enthusiasm, energy and inspired discussions meant that the process of collaboration was every part as rewarding as the final result. This is a spirit that embodies the way ACO conducts its core business with the specifications community.
In 2016, ACO Australia has focused on the landscape architect with thought leadership content and a series of accredited presentations both through AILA's official symposiums and through direct engagement with individual firms at their offices.
ACO's external civil construction products are specified in urban infrastructure applications to perform either a drainage function or to provide an enclosure for the safe routing of services. All products are designed to safely meet the needs of public open spaces. Being in constant visual and physical contact with an urban environment, they are purpose designed to harmonise with a project's design requirements whilst protecting people, water and utilities from each other.